Seafood Stuffed Mushrooms
Product Used: Salads of the Sea® Seafood Salad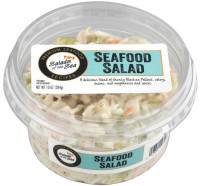 Ingredients
1 cup Salads of the Sea® Seafood Salad
1½ teaspoons mustard
5 drops hot pepper sauce (or to taste)
1 pound large mushrooms
1/4 cup butter, melted
3 tablespoons seasoned breadcrumbs
3 tablespoons Parmesan cheese
Instructions
Clean and remove mushroom stems. Mix Salads of the Sea® Seafood Salad with mustard and pepper sauce.
Melt butter in small saucepan. Place mushroom caps on baking sheet, stem side up. Brush with melted butter. Add breadcrumbs and Parmesan cheese to the remaining butter. Stuff mushrooms with Seafood Salad. Top with breadcrumb mixture, patting onto each stuffed mushroom.
Preheat broiler to 450º F. Place baking sheet 3 to 4 inches from the heat source and broil 5 minutes or until browned. Serve warm, or transfer to an oven-safe dish for reheating.
Makes 8 to 12 appetizer servings.