Bell Pepper Dip Bowls
Product Used: Fresh Creations® Dip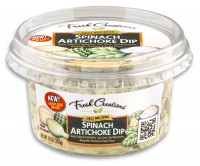 For a creative presentation, serve veggie sticks and dip in hollowed out bell peppers!
Ingredients
Fresh Creations® Dip (we used Spinach Artichoke)
bell peppers
cut vegetables (celery, carrots, bell peppers, etc.)
Instructions
Use a knife to cut the tops off of bell peppers and carve out the seeds and core. Fill with Fresh Creations® dip and vegetables cut into sticks for easy dipping and snacking.