Winky® Lunch Box Idea
Product Used: Winky® Jilly's Gelatin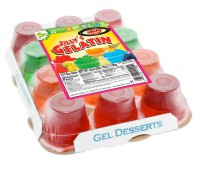 Tip: Cut PB&J sandwiches into fun shapes and include carrots and a Winky® gelatin treat. Your kids will love using cookie cutters to make lunchtime more fun!
Ingredients and Supplies
Winky® Jilly's Gelatin (Sugar Free option available)
Peanut butter and jelly sandwich
Baby carrots
Cookie cutter
Instructions
Cut sandwiches into fun shapes using cookie cutters and make them more enticing to your kids!
Don't forget to add the dessert! Winky® Jilly's Gelatin comes in four different flavors and is also available in a sugar free variety.