Traveling Banana Tapioca Puddings
Product Used: Winky® Tapioca Pudding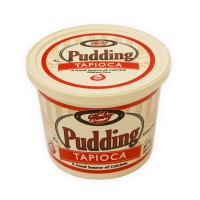 These adorable portable desserts are perfect for parties and outdoor activities. They can be assembled in a snap leaving plenty of time for fun!
Ingredients
12 mini vanilla wafer snack packs (1oz each)
2 Winky® Tapioca Pudding 22oz containers
4-5 bananas, sliced
½ Tbsp. lemon juice
whipped topping
maraschino cherries
Instructions
Cut tops off of vanilla wafer snack packs and empty out a little over half of the contents of each into a large bowl. Fold over edges so about ½" of the inner silver foil shows. Assemble packs upright (leaning against each other) in a 9×13 baking dish or other appropriate container of your choice.
Toss banana slices in a bowl of lemon juice to prevent browning.
Spoon about two tablespoons of Winky® Tapioca Pudding into each pack. Top with a few banana slices each and add more wafers. Layer with another tablespoon of pudding and additional bananas and wafers. Finish them off with a dollop of whipped topping, a banana slice, and a maraschino cherry.
Serve immediately or refrigerate for 1-2 hours, allowing the wafers to fully soften. Place a small disposable spoon in each pack before serving if desired.