Tater Tot Kabobs
Product Used: Lakeview Farms® Ranch Dip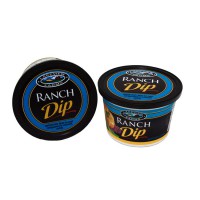 It's everything you love about loaded baked potatoes made into a fun, skewered appetizer. Serve them with Lakeview Farms® Ranch Dip for the perfect taste combination!
Ingredients
1 bag of tater tots
8 slices bacon, cooked and crumbled
1 cup Cheddar cheese, grated
1 Tbsp. ranch seasoning
bamboo skewers
Lakeview Farms® Ranch Dip
Instructions
Preheat oven to 425º F. Line a baking sheet with foil and spray with cooking spray. Place tots on prepared sheet and cook for 25 minutes or until golden brown. Remove from oven and let cool for 5 minutes.
Skewer 6–7 tots on each skewer and place back on a foil-lined baking sheet. Sprinkle with the ranch dressing seasoning, cheese and bacon. Bake until the cheese melts, approximately 10 minutes.
Serve with Lakeview Farms® Ranch Dip and enjoy.