Spinach Stuffed Meatballs
Product Used: Fresh Creations® Spinach Parmesan & Bacon Dip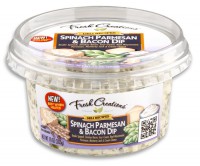 When you cut into these meatballs, the incredibly tasty cheesy center will ooze out, making for a delightful surprise!
Ingredients
1 cup of Fresh Creations® Spinach Parmesan & Bacon Dip
1 cup of shredded mozzarella cheese
½ lb ground beef
½ lb ground pork
1 large egg
¼ cup parsley
½ cup Italian breadcrumbs
1 tsp salt
½ tsp pepper
2 cups marinara sauce
mashed potatoes or cooked fettuccine pasta
Instructions
Mix dip with mozzarella.
Mix ground beef, pork, egg, parsley, breadcrumbs, salt and pepper until combined. Make a golf ball-sized handful of meatball mixture and press flat in the palm of your hand. Place a spoonful of the dip mixture in the center of the meat and fold the edges over the dip, sealing it and rolling into a ball. Repeat with the remaining meat and dip.
Sear the meatballs in a pan over medium-high heat for about a minute, then turn. Add the marinara sauce and cook for about 15 minutes until meatballs are cooked through and sauce is thick. Serve over potatoes or pasta. Makes 15-18 meatballs.