Spinach Parmesan Bacon Bites
Product Used: Fresh Creations® Spinach Parmesan & Bacon Dip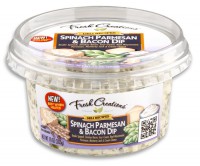 These easy to make appetizers are stuffed with Fresh Creations® Spinach Parmesan & Bacon Dip and extra freshly grated Parmesan cheese!
Ingredients
2 containers (20oz) Fresh Creations® Spinach Bacon & Parmesan Dip
1 cup (8oz) freshly grated Parmesan cheese
1 package (2 sheets) thawed frozen puff pastry
1 egg
1 tbsp water
Instructions
Combine egg and water and beat until well mixed. Set aside.
Combine Fresh Creations® Spinach Bacon & Parmesan Dip and Parmesan cheese. Stir until mixed evenly.
Unroll thawed pastry sheets and brush both sides with egg wash.
Spread dip evenly over one side of the puff pastry sheets. Roll up pastry sheets and cover with plastic wrap. Refrigerate for at least 2 hours.
Preheat oven to 400º F. Slice rolls into about 1-inch thick sections. Place rolls on a baking sheet lined with parchment paper and bake for about 20 minutes or until pastry turns a light golden brown. Serve warm.