Spinach Dip Steak Pinwheels
Product Used: Fresh Creations® Classic Spinach Dip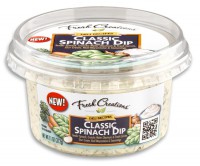 It's fancy enough for company and easy to make with Fresh Creations® Classic Spinach Dip.
Ingredients
1⁄2 cup Fresh Creations® Classic Spinach Dip
1⁄2 cup olive oil
1⁄4 cup soy sauce
1⁄2 teaspoon garlic powder
1 1⁄2 – 2 lbs butterflied flank steak
1⁄2 cup goat cheese crumbled
2 tbs breadcrumbs
1 egg yolk
1 cup fresh spinach washed and chopped
Instructions
Place steak in a gallon-sized re-sealable plastic bag. Combine soy sauce, olive oil and garlic powder and pour over steak in bag. Marinate the steak in the refrigerator for at least 4 hours or overnight.
Preheat oven to 425º F.
Remove steak from marinade and pat dry with paper towels.
Combine Fresh Creations® Classic Spinach Dip with goat cheese, breadcrumbs and egg yolk. Spread filling on steak leaving a one inch border on all sides. Layer chopped spinach on top. With grain of steak going from left to right, start rolling steak to enclose filling.
Tie steak every 2 inches with cotton twine to secure. Season with additional salt and pepper to taste.
Place steak in a baking pan coated with non-stick cooking spray. Bake in preheated oven for 35-40 minutes until internal temperature reaches 145º F. Let rest for 10-15 minutes before removing twine and slicing.