Spinach Artichoke Stuffed Garlic Bread
Product Used: Fresh Creations® Spinach Artichoke Dip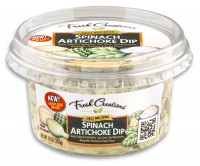 Two great tastes combined in one fantastic appetizer. Serve this Spinach Artichoke Dip stuffed garlic bread at your next get-together and indulge in the warm gooey center surrounded by garlicky, toasted goodness.
Ingredients
Fresh Creations® Spinach Artichoke Dip
French bread baguette
melted butter with minced garlic and chopped parsley
Instructions
Preheat oven to 350º F.
Slice baguette into thirds or fourths and hollow out the insides with a knife.
Stuff baguette sections with Fresh Creations® Spinach Artichoke Dip. Use a spoon to press it down and fill up the insides of the bread entirely.
Slice the filled baguette sections into 1-inch wide rounds and place on a baking sheet lined with foil.
Brush garlic butter over the baguette rounds, covering the sides/crust.
Cover with foil and bake for 20 minutes.
Let cool for 5-10 minutes.