Spicy Roasted Cauliflower with Spinach Dip
Product Used: Fresh Creations® Classic Spinach Dip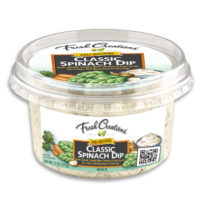 For a healthy take on dippers, roast cauliflower pieces coated in spices and dip them in our classic fresh spinach dip.
Ingredients
Fresh Creations® Classic Spinach Dip
1 large head of cauliflower
1 tsp cayenne pepper
1 tsp cumin
½ tsp garlic powder
salt and pepper
Instructions
Preheat oven to 450º F. Spray a baking sheet with nonstick spray and set aside.
Cut cauliflower into 6 cups of bite size pieces.
Combine spices in a mixing bowl (adding salt and pepper to taste) and gently toss cauliflower in spices to lightly cover.
Spread seasoned cauliflower pieces evenly on the baking sheet and bake for 15 minutes or until lightly browned and still slightly crunchy. Serve with Fresh Creations® Classic Spinach Dip.