Smoked Salmon Palmiers
Product Used: Salads of the Sea® Smoked Salmon Dip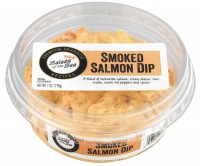 Impress your guests with these elegant and flavorful savory palmiers.
Ingredients
1 cup Salads of the Sea® Smoked Salmon Dip
1 package (2 sheets) thawed frozen puff pastry
¼ cup red or green onion, finely chopped
1/8 cup capers, roughly chopped
1 tbsp dry or fresh dill weed
Instructions
Line cookie sheet with parchment paper. Unfold and flatten one thawed pastry sheet and spread half a cup of Salads of the Sea® Smoked Salmon Dip evenly on top. Sprinkle with half the onions, capers and dill.
Fold both of the long sides of the pastry rectangle toward the center until they meet. Fold again and tightly roll in plastic wrap.
Repeat steps 1 and 2 with the second pastry sheet.
Chill folded pastries for at least one hour, preferably overnight.
Preheat oven to 400º F. Slice folded pastry into one-inch sections and place on cookie sheet cut side down. Bake for 5 to 7 minutes, or until puffed and golden.