Seafood Quiche and Strawberries
Product Used: Salads of the Sea® Seafood Salad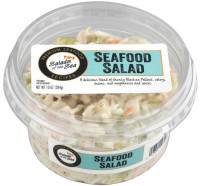 Ingredients
1 cup Salads of the Sea® Seafood Salad
1 deep-dish pie shell, blind baked at 325 degrees for 10 minutes
4 large eggs
2 cups milk, scalding
1 teaspoon nutmeg
1 teaspoon pepper
1 cup shredded Monterey Jack Cheese
16 ounces fresh strawberries, sliced
chopped red and yellow peppers and cilantro for garnish
Instructions
Preheat oven to 450º F. Beat eggs, adding slowly to scalding milk. Continue stirring, adding nutmeg and pepper.
Fold in Salads of the Sea® Seafood Salad. Place baked pie shell on a sheet pan and pour egg mixture into shell. Sprinkle with cheese and place in the oven on sheet pan.
Bake for 10 minutes at 450º F, then reduce heat to 300º F. Continue cooking for 35 additional minutes until custard is set.
Allow to cool and slice into wedges. Garnish with chopped peppers and cilantro. Plate with sliced strawberries.
Serves 6