Rice Pudding Rollups
Product Used: Señor Rico® Rice Pudding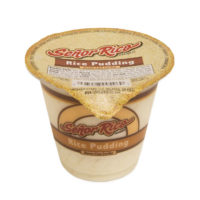 Take Señor Rico® Rice Pudding and your favorite fruits and roll them up in tortillas for a yummy afternoon snack or a great breakfast treat!
Ingredients
flour tortillas
Señor Rico® Rice Pudding
strawberries, diced
blueberries
Instructions
Spoon Señor Rico® Rice Pudding evenly onto the center of a tortilla—enough to fill it once it's rolled up, but not too much that it starts to squeeze out. Top with diced fruit of your choice.
Roll filled tortilla up in plastic wrap and refrigerate for about 30 minutes until firm enough to cut into pieces with a knife.