Rice Pudding Drink
Product Used: Señor Rico® Rice Pudding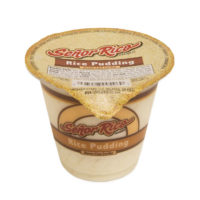 Ever wanted rice pudding… to drink? Then cool down with this refreshing, creamy beverage! Reminiscent of horchata, this is your favorite traditional rice pudding in drinkable form (literally "arroz con leche!"). It's super easy to make using Señor Rico Rice Pudding and your choice of milk.
Ingredients
8oz Señor Rico® Rice Pudding
⅓ cup milk of choice (dairy, almond, rice, coconut, etc.)
1 tsp. sugar or sweetener of choice (optional, to taste)
⅛ cinnamon
Instructions
1. Spoon Señor Rico® Rice Pudding into a glass and add milk of choice. Add sugar if using and cinnamon. Mix together well and drink up!
Tip #1: For a creamier, thicker drink, use ¼ cup of milk instead. Adjust the amount of milk according to preference to see what you like best!
Tip #2: Don't like the texture of the rice in your drink but still want the same flavor? Use a blender to blend all the ingredients together!