Rainbow Frozen Gel Pops
Product Used: Winky® Jilly's Gelatin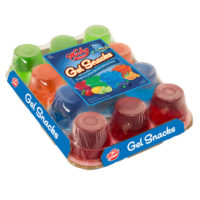 Use Winky® Gelatin and combine fun flavors to create perfect layers of red, orange, green and blue for fruity frozen pops! Best of all, they're no-drip!
Ingredients
Winky® Jilly's Gelatin
frozen pop mold or small paper cups and wooden popsicle sticks
Instructions
Note: Freezing times and amount of gelatin cups used are dependent upon how big your frozen pop mold is. This recipe was made using a frozen pop mold of 6 where each pop held about 4oz and required only one melted gelatin cup per color. You may need more depending on how many pops you'd like to make.
For the first layer, unmold blue Winky® Gelatin cup into a microwave safe bowl and microwave for about 15 seconds until melted. Pour an equal amount of melted gelatin into the bottom of a frozen pop mold or small paper cups. Freeze for about 15–30 minutes or until firm and frozen on top.
Repeat step 1 with green gelatin cup. Pour an equal amount on top of the blue layer and freeze for the same amount of time.
Repeat steps with orange gelatin.
For the last layer, repeat steps with red gelatin and fill to the top of your frozen pop mold or paper cups. Carefully insert the handles into the molds (layers should not be fully frozen) or the popsicle sticks into the centers if using paper cups. Freeze until fully frozen or overnight.