Pistachio Meringue, Cardamom Pear, and Warm Tapioca
Product Used: Señor Rico® Tapioca Pudding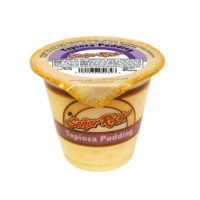 Warm up your cold winter night with this delightful dessert. Great for holidays and special occasion. Get the recipe for this delicious combination here. Bon Appetite.
Ingredients
Pear Compote
3 pears
1¼ cup water
½ tsp ground cardamom
½ tsp clover
¼ cup sugar
1 tsp allspice
Meringue
4 egg whites
1 cup sugar
¼ crushed pistachio
Instructions
Combine water, sugar, cardamom, allspice and clove in large saucepan. Stir over medium heat until sugar dissolves. Bring to boil. Add pears and simmer until tender, about 7 minutes. Transfer pears to bowl. Boil left over liquid until slightly thickened and syrupy, about 15 minutes. Pour over pears.
Preheat an oven to 275°. Line 2 baking sheets with parchment paper. In a bowl, combine the egg whites and sugar. Place over simmering water and whisk until the mixture is hot, 3 to 4 minutes. Transfer the bowl to a mixer and beat on high speed until stiff peaks form and the mixture is lukewarm, 4 to 5 minutes. Using a soup spoon, drop the batter in large mounds spaced 2 inches apart on the baking sheets. Sprinkle with pistachio. Bake until crunchy outside and still chewy inside, 35 to 40 minutes. Cool completely before removing the cookies from the parchment.
Microwave Señor Rico® Tapioca pudding in microwave safe bowl for 1 minute. Stir pudding and microwave for another minute.
Place tapioca pudding in individual serving dishes. Place pears on top of pudding and drizzle with remaining sauce. Top with meringue. Serve.