Mexicali Pasta Salad
Product Used: Fresh Creations® Mexicali Dip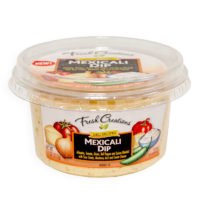 This pasta salad is perfect for cookouts and family reunions! Use our spicy Mexicali dip for a no-fuss dressing and throw this delicious side dish together fast. You can even add meat of your choice and make it a meal.
Ingredients
3 cups miniature farfelle pasta, uncooked (2 cups if you want a bigger corn-to-pasta ratio)
two 15oz cans of fire-roasted corn, drained
½ cup black beans, drained
3 green onions, chopped
½ bunch of cilantro, chopped
1 jalapeño pepper, seeded and finely chopped (to taste)
1 large avocado or 2 small avocados, chopped
½ cup Cojita cheese, crumbled (queso fresco or feta works as a replacement)
6–8 strips bacon, crumbled (optional)
1 container of Fresh Creations® Mexicali Dip
Instructions
Cook pasta according to package directions. Drain and rinse with cold water. Let dry.
In a large bowl, combine drained corn, black beans, and the chopped veggies: green onion, cilantro, and jalapeño. Add in avocado, cheese, and bacon right before serving (avocado will brown and bacon and cheese will become soggy if you decide to refrigerate before serving). Season with salt and pepper if desired. Toss together.
Spoon Fresh Creations® Mexicali Dip into a microwave-safe bowl. Microwave on high in 30 second intervals until hot, bubbling, and slightly runny. Pour into the pasta salad and toss until evenly combined. Serve immediately or refrigerate before serving, adding in the fresh ingredients last.