Mexicali Dip Bites
Product Used: Fresh Creations® Mexicali Dip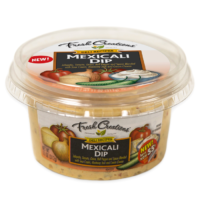 They may be tiny, but these little appetizers sure pack a punch! Flour tortillas are baked in a mini muffin tin and filled with warmed Fresh Creations® Mexicali Dip, then topped with crumbled queso fresco.
Ingredients
1 container of Fresh Creations® Mexicali Dip
5-6 flour tortillas (burrito size)
queso fresco
Instructions
Preheat oven to 325º F. Using a round cookie cutter or lid about 3½ inches in diameter, cut 24 circles out of flour tortillas. You should be able to get 4 to 5 circles out of each tortilla. Heat tortillas in the microwave for about 20-30 seconds to soften. (Optional: Melt 1 tbsp of butter and brush onto both sides of tortillas.) Press each tortilla circle into one cup of a 24-cup mini muffin tin so that it fits in snugly. Gently pleat edges so there is enough room to spoon dip into later. Repeat with remaining tortillas.
Bake for 10 to 12 minutes or until tortillas have hardened. Allow to cool slightly before filling tortilla cups with Fresh Creations® Mexicali Dip. Place back in the oven for 5 to 10 minutes until dip has warmed through and tortillas are crispy and slightly golden brown around the edges.
Top each with a pinch of crumbled queso fresco and serve. Best served the day they're made.