Football Snack Stadium
Product Used: Luisa's® 5 Layer Fiesta Dip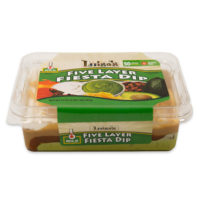 For the centerpiece at your next game night this yummy snack stadium to contain all of your football cravings. Just place Luisa's 5 Layer Dip in the center to complete this fantastic display.
Ingredients
Construct or buy cardstock stadium
Sandwiches of your choice
Tortilla chips
Vegetables
Luisa's® 5 Layer Fiesta Dip
Condiments
Instructions
Build your snack stadium where you plan on eating.
Place your sandwiches, chips and veggies in the different sections.
Set out the condiments.
Place Luisa's Dip in the center of the field.