Lil' Pumpkin Deviled Eggs
Product Used: Lakeview Farms® Chipotle Ranch Dip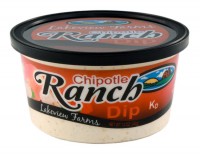 Make these cute yet devilishly good eggs with our chipotle dip for a seasonal presentation.
Ingredients
¼ cup Lakeview Farms® Chipotle Ranch Dip
6 hard-boiled large eggs
12 pieces of cut chives
paprika
Instructions
Cut eggs into halves. Take the yolks out and put them in a bowl for mixing.
Add Lakeview Farms® Chipotle Ranch Dip to egg yolks and combine.
Pipe or spoon egg yolk mixture into the empty egg cavities until they're heaping. Carefully use a spoon to round and smoothen the filling. Use a fork or knife to lightly cut lines into the yolk to resemble the lines in a pumpkin.
Place chive piece above each yolk to resemble pumpkin stems.
Sprinkle with paprika.