Lemon Sour Cream Cookies
Product Used: Lakeview Farms® Sour Cream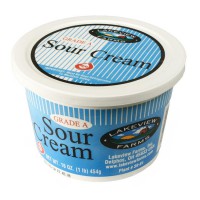 These lemon sour cream cookies are simple but tasty! Their delicate flavor makes for a delightful summer or end of summer treat.
Ingredients
¼ cup Lakeview Farms® Sour Cream
1 cup granulated sugar
finely grated lemon zest of 1 lemon
½ cup unsalted butter, room temperature
1 large egg
½ tsp vanilla extract
3 cups flour
¼ tsp salt
¼ tsp baking soda
Instructions
Add sugar and lemon zest to a small bowl. Using your fingers, rub zest into sugar.
Beat butter in a large bowl until creamy. Add the lemon zest sugar and beat until light and fluffy.
Add egg and vanilla. Beat until combined.
Whisk together flour, salt, and baking soda. Add dry mixture to wet mixture and add sour cream. Beat until just combined.
Divide dough in half. Form each half into a 7" log. Wrap in parchment paper or plastic wrap and chill for at least 4 hours or overnight.
Preheat oven to 375º F. Line baking sheet with parchment paper or non-stick liner.
Unwrap dough and cut into slices, placing them 1" apart on baking sheet.
Bake for 8 to 10 minutes or until edges are lightly browned.