Hot Wings with Artichoke Jalapeno Dip
Product Used: Fresh Creations® Artichoke Jalapeno Dip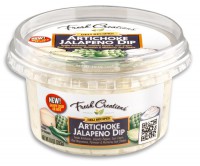 Your favorite appetizer or game time snack gets a spicy new twist when you dip hot wings in Fresh Creations® Artichoke Jalapeno Dip!
Ingredients
¾ cup all-purpose flour
½ tsp. cayenne pepper
½ tsp. garlic powder
20 chicken wings, raw
½ cup butter, melted
½ cup hot pepper sauce
Fresh Creations® Artichoke Jalapeno Dip
carrot and celery sticks (optional)
Instructions
Line a baking sheet with foil and spray with cooking spray. In a plastic resealable bag, place the flour, cayenne pepper, garlic powder and salt and shake to mix. Add the chicken wings and shake to coat. Place the wings on prepared baking sheet and refrigerate for at least one hour.
Preheat oven to 400º F.
In a small bowl, whisk together the melted butter and hot sauce. Dip the wings into the butter mixture and place back on the baking sheet. Bake in the oven for 45 minutes or until the wings are no longer pink in the center and are crisp on the outside, turning them over halfway through.
Place cooked wings on a serving platter with a bowl of Fresh Creations® Artichoke Jalapeno Dip.