French Onion Tater Tot Casserole
Product Used: Lakeview Farms® French Onion Dip – 16oz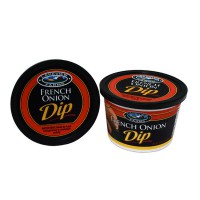 The easiest, cheesiest casserole ever, just 4 ingredients and perfect for potlucks. You can even make this ahead of time and freeze for later. Use it as a side dish or an alternative for hash browns for breakfast time!
Ingredients
one (30-32oz) package frozen tater tots
one 10.5oz can cream of chicken soup
one 16oz container Lakeview Farms® French Onion Dip
8oz (2 cups) shredded cheddar cheese
Instructions
Preheat oven to 350º F. Spray a 9×10 baking dish with cooking spray. Set aside.
In a large bowl, mix together frozen tater tots, cream of chicken soup, Lakeview Farms® French Onion Dip, and shredded cheddar cheese. Pour into baking dish and spread evenly.
Bake for 45 – 60 minutes, until light golden brown and bubbly.