Sugar Free Fluffy Gelatin Dessert
Product Used: Winky® Sugar Free Jilly's Gelatin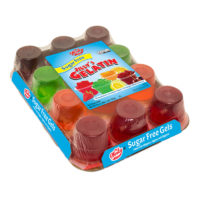 A quick and easy low calorie sugar free gelatin dessert that uses only 2 ingredients. Light as a feather, this refreshing and creamy dessert melts in your mouth like a dream.
Ingredients
1 cup (three 3.25oz gelatin cups, melted) Winky® Sugar Free Jilly's Gelatin (we used Strawberry)
2oz Neufchâtel or cream cheese, softened
Instructions
Take three 3.25oz containers of the same color of Winky® Sugar Free Jilly's Gelatin and scoop gelatin out into a microwave-safe bowl or glass. Microwave on high until gelatin has melted into liquid, about 40 seconds. Three containers of melted gelatin should equal about one cup. Refrigerate until slightly thick.
In a small bowl, beat softened cheese with an electric mixer until smooth. Add 2 tbsp of the melted gelatin to the cheese mixture and beat until smooth and creamy. Add the rest of the gelatin to the cheese and beat on high until foamy.
Chill in the refrigerator until set. Top with low fat whipped topping if desired. Makes 2 servings.