Fish Tacos
Product Used: Salads of the Sea® Seafood Salad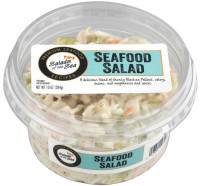 Ingredients
2 cups Salads of the Sea® Seafood Salad
1 pound salmon or shark filets, cut into strips
2 tablespoons olive oil
¼ cup each red, yellow and green pepper strips, cut into strips
¼ cup chopped yellow onion
¼ cup shredded cheddar cheese
2 tablespoons chopped cilantro
8 flour tortillas, wrapped in foil and heated at 300º F for at least 6 minutes
Instructions
Heat olive oil in medium frying pan. Add strips of fish and sear. Turn once, allowing both sides to be crispy, but not dry (about 2 minutes per side). Remove from pan and set aside.
Add peppers and onions to pan and sauté for 2 minutes, allowing the vegetables to remain crispy. Turn off heat and begin assembly.
Place one tortilla on a plate; add fish and top with peppers and onion. Sprinkle with cheese according to taste. Add 2 tablespoons (or more if desired) of Salads of the Sea® Seafood Salad. Garnish with chopped cilantro and fold.
Serves 4