Crab Stuffed Shells
Product Used: Salads of the Sea® Cajun Crab Dip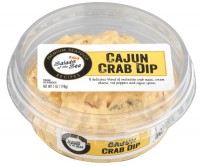 Entertaining is a breeze when you use Salads of the Sea® Cajun Crab Dip to stuff pasta shells. Serve them on a bed of steamed spinach and top with a creamy alfredo sauce.
Ingredients
2 (7oz) containers of Salads of the Sea® Cajun Crab Dip
18 jumbo pasta shells
8oz (1 cup) ricotta cheese
½ cup shredded mozzarella cheese
1 jar (17oz) alfredo pasta sauce
1 large bunch of fresh spinach washed
¼ cup shredded Parmesan cheese
Instructions
Heat oven to 350º F. Spray a 13 x 9 x 2 baking dish with cooking spray. Cook and drain pasta shells as directed on package.
While shells are cooking, mix Salads of the Sea® Cajun Crab Dip with ricotta and mozzarella cheese. Season to taste with salt and pepper.
Spread ¼ cup alfredo sauce over the bottom of baking dish. Fill each pasta shell with 2 tablespoons of crab mixture and place in prepared baking dish. Spoon remaining sauce over shells and sprinkle Parmesan cheese on top. Bake uncovered until bubbly, approximately 20-25 minutes.
While shells are baking, steam spinach until lightly wilted.
To serve, place three shells per person on a bed of spinach and spoon remaining sauce over the top.