Crab Stuffed Fish Rolls
Product Used: Salads of the Sea® Cajun Crab Dip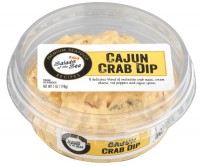 An elegant company-worthy entree made easy with Salads of the Sea® Cajun Crab Dip rolled up in a whitefish fillet and topped with a creamy white wine sauce.
Ingredients
Salads of the Sea® Cajun Crab Dip
4 6-8oz white fish fillets
¼ cup panko breadcrumbs (or regular breadcrumbs)
3 tablespoons melted butter
Salt and pepper
Cajun seasoning
White sauce:
1 cup heavy whipping cream
¾ cup white wine
2 tablespoons flour
1 teaspoon salt
1 teaspoon dried parsley
Instructions
Preheat oven to 350º F. Grease or melt 2 tablespoons butter into glass baking dish.
Mix breadcrumbs with 7oz of Salads of the Sea® Cajun Crab Dip. Spoon 2 tablespoons of filling onto the center of each fillet. Roll each filled fillet up and place seam-side down into baking dish.
Brush melted butter over the tops of each filet and season with salt, pepper, and Cajun seasonings to taste.
Cook for 20 minutes until lightly golden and cooked through.
White sauce:
In a medium saucepan, combine cream, wine, flour, salt and parsley over medium high heat. Stir all together and bring to a boil.
Reduce heat to low and simmer until sauce has thickened.
Pour sauce over fish rolls and enjoy!