Caramel Flan Poke Cake
Product Used: Señor Rico® Caramel Flan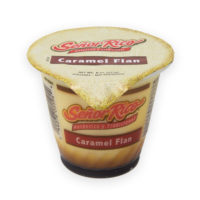 Add a rich and creamy texture to a classic when you make this Carmel Flan Poke Cake. Use caramel syrup to top for a decadent dessert that will satisfy any sweet tooth.
Ingredients
3 (8oz) Señor Rico Caramel Flan Cups
1 box of yellow cake mix
1 (8oz) tub whipped topping
Carmel Syurp optional
Instructions
Make yellow sheet cake using directions on the box.
Poke finger sized holes in cake while still warm
In a mixing bowl beat flan till it is creamy texture.
Pour flan onto cake covering completely.
Place in the refrigerator for 4-6 hr.
Spread whipped topping on cake and drizzle with carmel.