Caprese Fried Grits
Product Used: Gracious Grits® Original Creamy Grits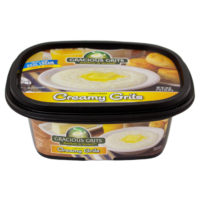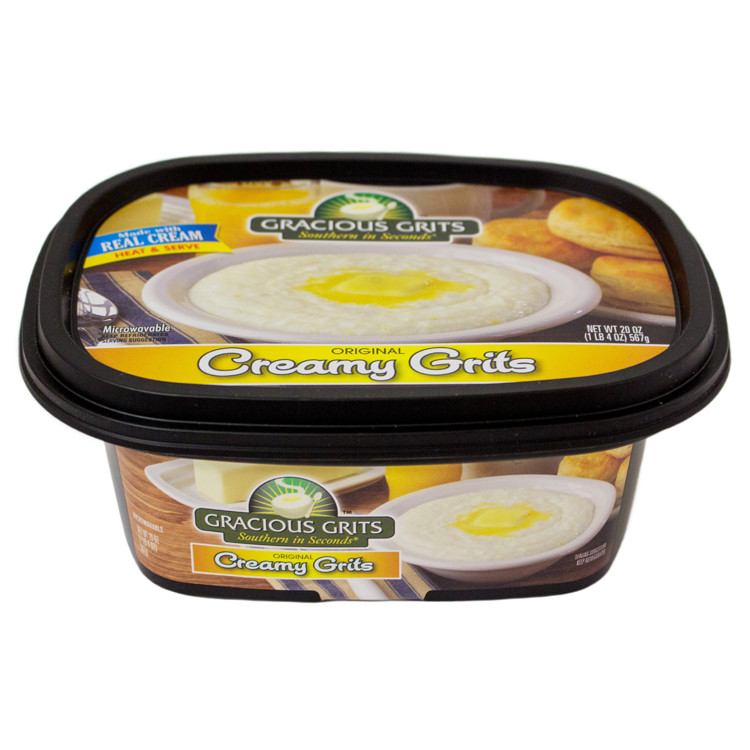 Put an Italian spin on Southern grits with these fried caprese bites! Topped with tasty pesto and fresh mozzarella, tomatoes and herbs, this appetizer is guaranteed to become a favorite.
Ingredients
1 package of Gracious Grits® Original Creamy Grits
2 Tbsp. olive oil
pesto
½ lb fresh mozzarella cheese, cut into slices
6 grape or cherry tomatoes, cut into halves
fresh basil and/or oregano leaves, for garnish
Instructions
Heat container of Gracious Grits® Original Creamy Grits according to package directions. Set aside.
Cut off a sheet of plastic wrap about a foot and a half long. After grits have cooled slightly, pour grits onto the middle of the plastic wrap. Lift corners to meet over the top of the grits and roll into a log, wrapping up the grits completely. Twist the ends of the plastic wrap to close. Roll the grits log into aluminum foil to hold the shape. Refrigerate overnight until firm enough to slice.
Remove foil and plastic wrap from grits log. Cut grits with a knife into ½" slices (will make about 12 slices).
Heat oil in a large skillet over medium-high heat. When the oil is hot, cook grits slices in batches. Cook until golden brown and crispy, about 7–8 minutes each side (around 15 minutes total). Remove from heat and allow to cool and thicken slightly.
Place fried grits slices on a serving plate. Top each slice with pesto, a slice of mozzarella, half a grape or cherry tomato (cut side down), and fresh basil and/or oregano leaves. For added flavor, drizzle with olive oil and balsamic reduction.