Cajun Crab Dip Crescent Wreath
Product Used: Salads of the Sea® Cajun Crab Dip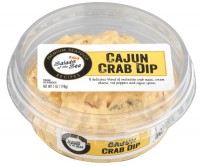 Warm cajun crab dip surrounded by toasty, flaky bread made to look like a wreath. A fantastic appetizer!
Ingredients
14oz Salads of the Sea® Cajun Crab Dip (2 containers)
8oz cream cheese, softened
16 crescent rolls (two 8oz cans)
1 egg white (optional)
Instructions
Preheat oven to 350º F.
Mix Salads of the Sea® Cajun Crab Dip and softened cream cheese together.
Separate crescent rolls into 16 triangles and place on a greased cookie sheet. Arrange triangles so the short sides form a circle, pressing to join them together. When it's done it should look like a sun with rays.
Evenly spread crab dip mixture around the inner circle.
Fold skinny triangle ends over and around crab mixture, tucking it under the bottom layer of dough to secure it.
Optional: Brush top of dough with egg white.
Bake for 25-30 minutes or until top is golden brown.