BLT Ranch Bites
Product Used: Lakeview Farms® Ranch Dip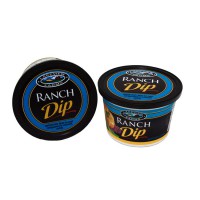 These cute little appetizers will go fast at parties! Turn grape tomatoes into tiny cups and fill with lettuce, bacon and ranch for a miniature version of BLT that you won't want to stop eating.
Ingredients
12 grape tomatoes
arugula or baby greens
Lakeview Farms® Ranch Dip
2–3 pieces of bacon, cooked
Instructions
Cut tomatoes in half lengthwise. Using a knife or a small spoon, carefully remove seeds and scoop out insides to create a cup. Lay a small piece of lettuce on the inside and top with a small dollop of Lakeview Farms® Ranch Dip to fill the hollow (pipe if necessary). Garnish with a small piece of bacon. Serve immediately.