Bird Seed Wreath
Product Used: Lakeview Farms® Cranberry Orange Salad Gelatin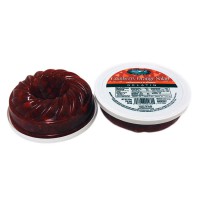 Use your empty mold to make a bird seed wreath!
Ingredients and Supplies
(The following recipe ingredients are enough to fill about two or three 22oz gelatin molds. Doubling the recipe will make ~4 wreaths. Instructions are for filling a single mold.)
2 cups wild bird seed (4 cups if doubled)
½ package unflavored gelatin (doubled: 1 package)
3/8 cup flour (doubled: ¾ cup)
1 ½ tablespoons light corn syrup (doubled: 3 tablespoons)
¼ cup water (doubled: ½ cup)
1 empty 22oz container of Lakeview Farms® Gelatin Salad Mold
nonstick spray
fresh cranberries
ribbon for tying and hanging
Instructions
Rinse empty plastic mold and dry.
Add warm water to a large bowl. Stir in gelatin until completely dissolved.
Whisk in flour and corn syrup and stir until mixed well.
Pour in bird seed and mix until well combined.
Grease plastic mold with nonstick spray. Scatter a few cranberries on the bottom of the mold. Spoon bird seed mixture into mold one layer at a time, pressing down firmly with the back of a spoon or your fingers to set into the mold's shape. Do not fill mold completely; leave enough space to make a hole in the center.
Let set overnight; no need to refrigerate. Carefully remove from mold when fully dried and firm by turning it upside down on a plate.
Tie a ribbon or twine through the hole in the center of the wreath and hang in desired location.