Bell Pepper Octopus
Product Used: Salads of the Sea® Spicy Asian Crab Dip (or Cajun Crab Dip)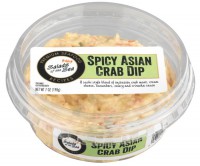 Looking for a creative dip presentation? This cute little octopus will steal the show. Also a good way to get your kids to eat their vegetables!
Ingredients
Salads of the Sea® Spicy Asian Crab Dip (or Cajun Crab Dip)
2 red bell peppers
2 peppercorns
Instructions
Spread Salads of the Sea® Crab Dip on a plate evenly.
Using a knife, cut 8 long strips out of one bell pepper.
Using a knife, pierce two shallow X's in place of eyes on the second bell pepper (the one you didn't cut into to make the legs) and push peppercorns into the X's until they stay.
Place the bell pepper in the middle of the plate and place bell pepper strips around the octopus bell pepper.