Beachside Gelatin Cups
Product Used: Winky® Jilly's Gelatin (Berry Blue)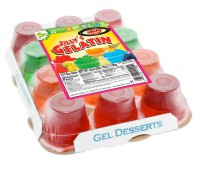 Put together these adorable Beachside Gelatin Cups for your kids. They are perfect for birthday parties or to add a little fun to snack time.
Ingredients
One individual 3.25oz Winky® Jilly's Gelatin cup (Berry Blue)
¼ cup of crushed graham crackers
1 Teddy Graham's cookie
Striped soft mint for beach ball
1 mini umbrella pick
Instructions
Remove lid. Sprinkle on crushed graham crackers to cover about half of the surface of the gelatin cup.
Arrange all other materials on top to create a beachside scene.