Bacon Wrapped Crab Dip Stuffed Mushrooms
Product Used: Salads of the Sea® Smoky Bacon Crab Dip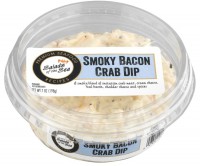 Juicy and packed with flavor, these baked baby bella mushrooms are stuffed full of Smoky Bacon Crab Dip and wrapped in crispy bacon. It's an appetizer you'll want to make again and again.
Ingredients
1 container Salads of the Sea® Smoky Bacon Crab Dip
1 lb whole fresh baby bella mushrooms (creminis)
12oz package of center-cut bacon
Instructions
Preheat oven to 425º F. Line baking sheet with parchment paper and set aside.
Wash mushrooms and remove stems. Remove any insides to create a cup for filling. Fill mushroom caps with Salads of the Sea® Smoky Bacon Crab Dip, about a teaspoon full for each. Filling can be heaped up a bit.
Cut bacon strips in half and wrap around each filled mushroom. Secure with a toothpick. Place mushrooms on baking sheet caps-down.
Bake for 20-25 minutes until mushrooms are tender and bacon is fully cooked to preference. Serve warm.